Space 55's Season 15!



---
The Hidden Sea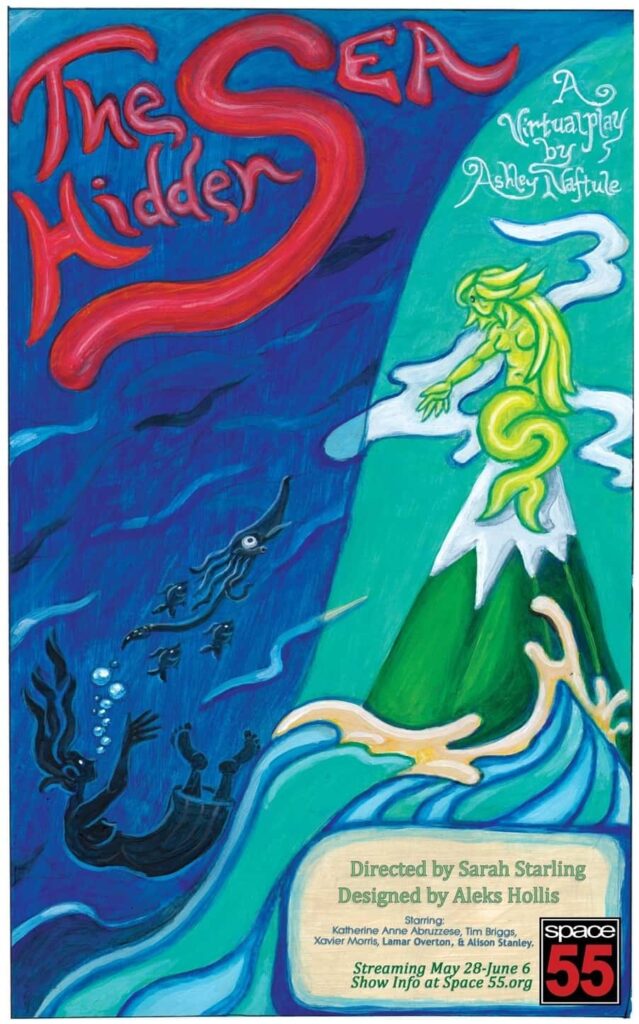 by Ashley Naftule
May 28, 2021 – June 6, 2021
Sophia Islet has trouble sleeping. It isn't insomnia or sleep apnea that troubles her: it's her vivid nightmares of drowning and the very real underwater creatures that follow her back to her flooding apartment when she wakes up that give her grief. While Sophia struggles to cope with her impossible situation, over half a century in the past two sailors on a raft—Hans & Nikolai—try to stay afloat as sharks circle them & a mysterious siren tempts them with promises of love & immortality under the sea. Inspired by body horror, sea shanties, the weird fiction of Caitlin R. Kiernan, and Terry Gilliam movies, The Hidden Sea is a darkly comic tale about anxiety, cosmic synchronicities, mermaids, and lovestruck pet shop boys.
Directed by Sarah Starling & set in an animated world created by designer Aleks Hollis using RPG Maker MZ, The Hidden Sea stars Katherine Anne Abruzzese, Tim Briggs, Xavier Jacob Morris, Lamar Overton, and Alison Stanley.
The Hidden Sea will stream via Space 55's Twitch and YouTube channels May 28-June 6. Fridays, Saturdays and Sundays at 7:30pm. The show is free to watch (donations are always appreciated). The performances have built in closed captioning.
View a Preview of the show.
---
Body Politics (featuring a smattering of impressions throughout portraying girls in love and on drugs in east and west villages)
by Alex Tuchi and Aimee V. Carver
April 23, 2021 – May 2, 2021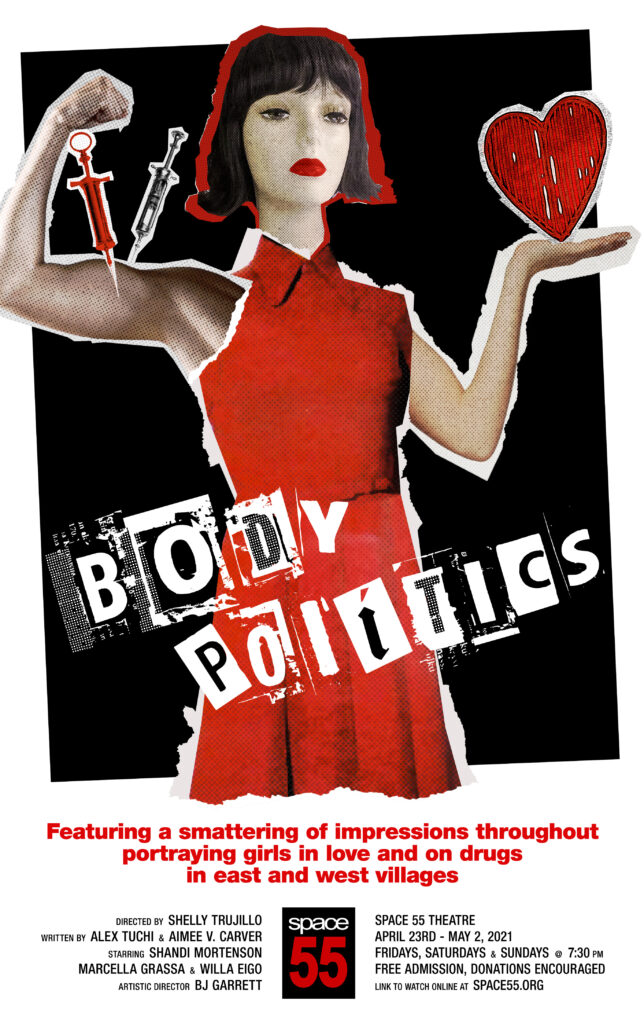 This play of artfully interwoven vignettes and impressions explores the euphoric highs & execrable lows of drugs, love, and what happens when you mix the two together. This show explores the stories of seven characters portrayed by three women, one of whom acts as the audience's tour guide through a cacophony of ecstasy & altered states. Funny, curious, engrossing, tragic—just like love and drugs.
Directed by Shelly Trujillo. Starring Shandi Mortenson, Marcella Grassa, and Willa Eigo.
This WORLD PREMIERE is the winner of our 2020 call for scripts by BIPOC playwrights. We are so proud to present it, and we can't wait for you to see it.
---
Fennec the Fox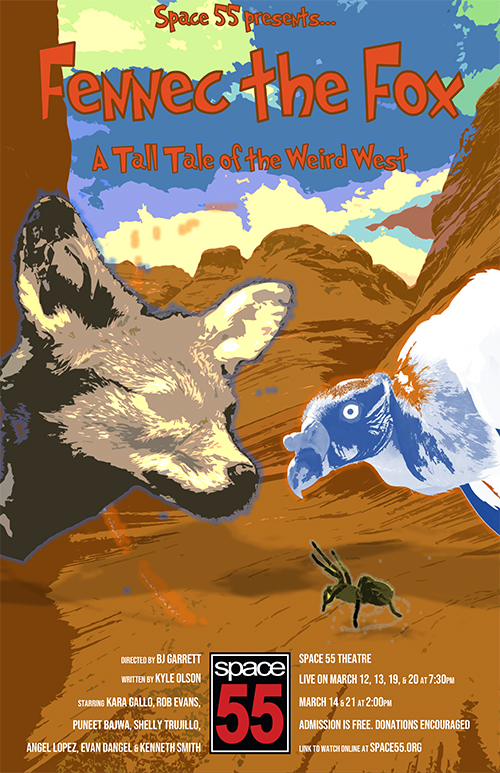 This March, Space 55 takes us back to the Old West for a family-friendly animal heist adventure! …but instead of Ocean's 11, think Desert's 16.
Join us on YouTube to watch our (anti) hero Fennec the Fox and her begrudging companion Vulture as they try to pull off a magical heist! Our unlikely duo tries to stop the evil Tarantula from getting her eight legs on a magic stone that will give her total power. Along the way, Fennec must use her wits and her legendary gift of gab to avoid the many dangers of the wild desert. Angry and agile cacti, the freakish Horned Toad and even the feared Chupacabra all stand between her and her goal. Our adventure is populated by nothing but animals – this is the Hundred Acre Woods without Christopher Robin, the Jungle Book without any mancubs. It's bright red flowers sprouting on looming giant green cacti, towering mesas and powerful dust devils, hidden arroyos concealing precious life giving springs, and perhaps concealed predators… It's the West, even wilder than we knew.
The show is free to watch! Tax-deductible donations to Space 55 are always welcome and encouraged.
Starring Kara Gallo, Rob Evans, Puneet Bajwa, Shelly Trujillo, Angel Lopez, Evan Dangel, and Kenneth Smith. Written by Kyle Olson. Directed by BJ Garrett.
The show streams LIVE on YouTube March 12-21!
Fridays and Saturdays at 7:30pm. Sundays at 2:00pm.
Watch on Space 55's Youtube Channel
---
7 Minutes Under the Mistletoe: Virtual Edition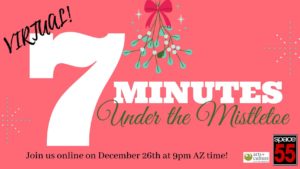 Join us December 26 at 9pm MST for Space 55's classic no-holds-barred-anything-goes-variety show! Hosted by the wonderful Jose Gonzalez! Now brought to you in the comfort of your home virtually, but still LIVE. Very few rules (no fire still applies). What could go wrong?! The show will be free and streamed live to Space 55's YouTube channel!
---
A Bloody Mary Christmas 2020!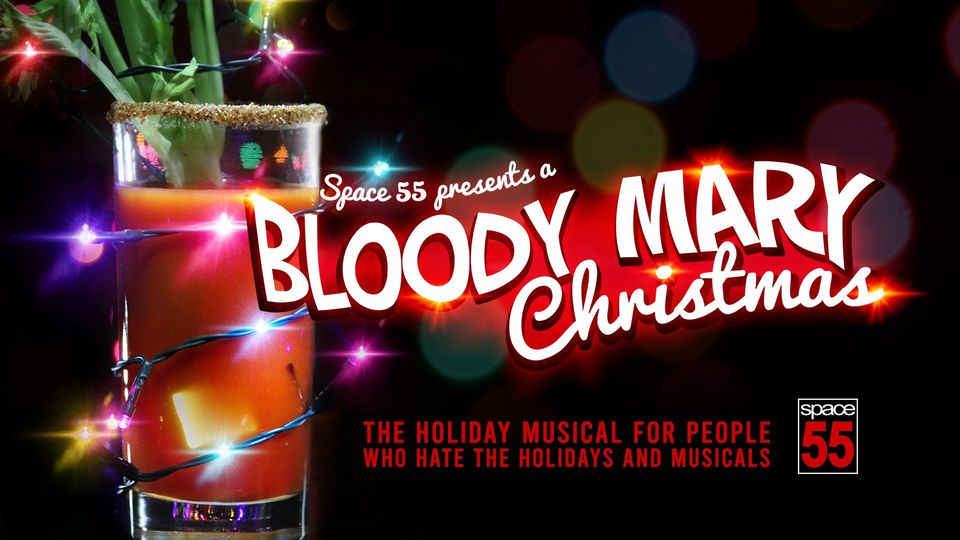 For the 11th consecutive year (and first time virtually!), Space 55 presents A Bloody Mary Christmas, a holiday musical for people who hate the holidays and musicals. Sun City retirees Blanche, Bertha and Mabel sing, dance and drink themselves silly as they battle a heartless homeowner's association that tries to evict them from their condo on Christmas Eve. You'll laugh, you'll cry, you'll pee a little. Need we add that this show isn't even remotely appropriate for children?
Starring Mary Timpany, Suze St John, Thea Eigo, and Kalei Devilly. Directed by Willa Eigo. Written by Jacque Arend, Shawna Franks, Denny Guge & Stacey Reed. Music by Dangerville & Samson Says.
Shows at 8pm on December 4, 11, 18, and 19 shows are FREE, LIVE and WILD and streaming to Space 55's YouTube Channel.
Or, you may watch a recorded version on demand through ShowTix4U. Tickets are $8. Watch anytime between December 5-25!
Stay tuned for announcements about special events and hosts!
---
THE PLAYGROUND SHOWCASE
November 20-21, 7pm
Join us for the premiere of new works created at The Playground! Storytelling, solo performance, and spoken word, all dreamed up over the last 5 weeks by the participants of The Playground! Come enjoy these new works and celebrate with the participants!
The event is free, but tax-deductible donations are always welcome!
Shows:
Friday, November 20th at 7pm
Saturday, November 21st at 7pm
Watch the show on our Youtube Channel
---
Space 55 presents Experiment 55!
Welcome to our brand new online anthology show. We at Space 55 have always been interested in new voices and ideas in the live theater space and now we're extending our imagination onto the internet. Experiment 55 is a new show where we're going to combine recurring segments involving script readings, improv, music and more. And we'll end each show with a behind the scenes hang session where we'll chat and play games with each other!
Our theme music is composed by Soft M. Find out more about Soft M. here
Hosted by Sarah Starling
Produced by Kyle Olson and Aleks Hollis