A trip through the divine & the absurd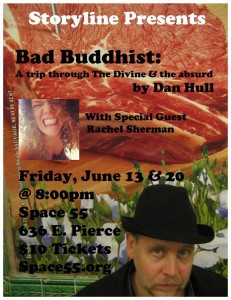 Storyline: where the themes of our lives intersect. A monthly real life storytelling showcase exploring our complex interconnections through the simple act of storytelling.
Join us either June 13th or June 20th for a showcase of two storytellers that are considered masters of their craft by Lawn Gnome Publishing owner Aaron Hopkins-Johnson. This month's theme is "Bad Buddhist". This showcase will be presented in the best theater for intimate and honest theater – New Times 2013 Best Blackbox Theater Award recipient – Space 55.
Space 55 Theatre is located at 636 E. Pierce Street, Phoenix, AZ 85004.
Tickets are $10
Friday, June 13 at 8pm
Friday, June 20 at 8pm