Four Short Cuts
An Evening of Short Plays
March 17 – March 26
Fridays & Saturdays at 8pm
Sundays at 5pm
All seats, all shows $10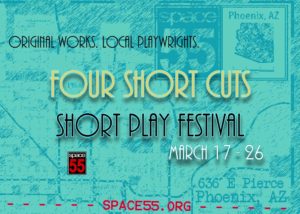 Space 55 is proud to present an evening of short plays that journey into the unknown. Whether it's on the war-torn fields of Iraq, the endless void of outer space, or a hitchhiker's journey across the land of the dead, "Eight Short Cuts" takes audiences down scenic routes to places they've never been before. Featuring an ensemble of local actors bringing the works of local playwrights to life, "Eight Short Cuts" celebrates the "short but sweet" vitality of one-act plays. Some people need two hours to create a whole new world- these eight writers didn't need more than 15 minutes!
Four Short Cuts features the following pieces:
Operator by Carrie Behrens
Moving by Bray Lawrence
Two Pennies by Ashley Naftule
Anteater by Alex Tuchi
For more information, you can contact the showrunner, Ashley Naftule, at 480-278-4967 or at theemperornorton@gmail.com.