Fridays and Saturdays: $18
Sundays: $15
Space 55's perennial Holiday musical for people who hate the holidays and musicals. Sun City retirees Blanche, Bertha and Mabel sing, dance, and drink themselves silly as they battle a heartless homeowner's association that tries to evict them from their condo on Christmas Eve.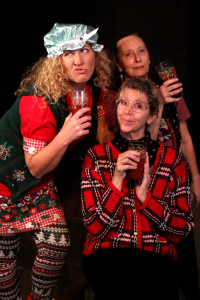 You'll laugh, you'll cry, you'll pee a little. Need we add that this show is not even remotely appropriate for children?
Written by Denny Guge, Shawna Franks, Jacque Arend and Stacy Reed.
Starring Kristie Lindeman, Toni Jourdan, Wendy Warwick White and Robert Peters. Directed by BJ Garrett.
Nov. 27th – Dec 27th
Fridays and Saturdays at 8 pm
Sundays at 5 pm
Special performances:
First Friday Dec. 4 at 7:30 pm.
Christmas Week:  Tuesday, Dec. 22 and Wednesday, Dec 23 at 8 pm.
(Sorry, No performance on Christmas Day)