Saturday, April 9th from 7:30 to 9:00pm.  Tickets $8
Bird City Comedy Festival proudly presents some of the best improv and sketch around. Hosted by comedian Michael Paul Kohn, this dynamic show features performances from:
RUSSEL CROW
Russel Crow is an improv team that has been served multiple cease & desists from the estate of megastar and living god Russell Crowe. Our show has nothing to do with Russell Crowe but everything to do with Russel Crow. Each night five Crowswalk on the stage in hopes of becoming and exemplifying Russel Crow.
We do long-form improv with an ever-changing lineup and format. Previous shows have included improv inspired by "Texts from your Dad" and "Worst Job Ever".  Cast features members of Dawson's Queef and Marvin's Room.
PIZZA PARTY
Pizza Party is a two-man long-form improv troupe that performs 25-minute stories of interwoven vignettes, sometimes closely related, sometimes only related by theme. Featuring AriZoni Award Winner Michael Margetis and Proud Dog Owner Samuel John Lowy, Pizza Party has performed at local favorites like Valley Bar and Crescent Ballroom. Although Pizza Party has only been in existence for a little over a year, Michael and Sam have been performing improv and sketch comedy together as a part of other troupes in the Valley, as well as touring in New York, Chicago and Los Angeles for the past eight years.
BULLY MAMMOTH
Bully Mammoth has been performing sketch comedy in Arizona since 2007. They combine original scenes with hilarious performances, creating a unique blend of 98%-scripted comedy with a theatrical flair. In addition to live shows, Bully Mammoth films comedy videos for YouTube and recently released a Christmas-themed short film. Follow them on Facebook for updates about upcoming shows!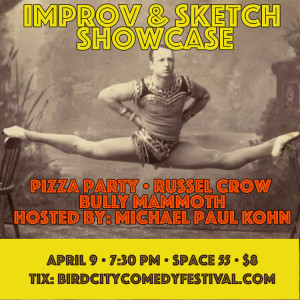 This event is part of the Bird City Comedy Festival. Space 55 passes will not be accepted. Click Here to purchase advanced tickets.