Written by Paul Auster
Directed by Ernesto Moncada
Fridays and Saturdays- July 7, 8, 14, and 15.
All shows start at 8pm.
Tickets are just $10 for this limited time only show!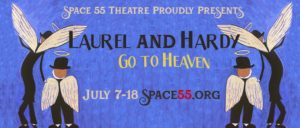 A short absurdist play by one of America's great writers, it tells the story of what happens to Hollywood's most famous comedic duo when they cross over to "the other side." It's a little bit Beckett, a little bit Buster Keaton, and a whole lot of Austerian weirdness.
Starring Dennis Frederick & Ashley Naftule as Stan Laurel & Oliver Hardy.