Fridays and Saturdays at 8:00 pm October 3 – 25
Thursday October 16 & Thursday October 23 at 7:30 pm
Tickets are $15.
directed by Charlie Steak
It's post nuclear melt-down, there's no electricity, no TV, and the survivors are living in small groups, à la The Walking Dead, when a few people around a campfire start to piece together their memories of – an episode of The Simpsons.  Soon they're taking it a step further. Anne Washburn's imaginative dark comedy is testament to both the importance of live theater, and to the resilience of Bart Simpson through the ages.  Mr. Burns is an animated exploration of how the pop culture of one era might evolve into the mythology of another.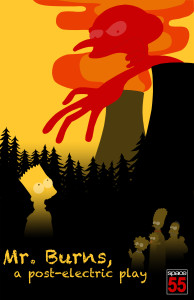 Reviews of the New York production:
DOWNRIGHT BRILLIANT. When was the last time you met a new play that was so smart it made your head spin? Get ready to reel, New York. Anne Washburn's "Mr. Burns, a Post-Electric Play" has arrived to leave you dizzy with the scope and dazzle of its ideas. With grand assurance and artistry, Ms. Washburn makes us appreciate anew the profound value of storytelling in and of itself, and makes a case for theater as the most glorious and durable storyteller of all. I LOOK FORWARD TO REMEMBERING IT FOR A LONG, LONG TIME. (Critic's Pick)
—Ben Brantley, NY Times
GET IN LINE ASAP. This bizarre, funny, bleak, wonderful show is even better than its hype…. it's also one of the most affecting tributes to theater and tenacity you're likely to see all year.
—Elisabeth Vincentelli, NY Post