ORIGIN OF THE SUBSPECIES!
Written by Carrie Behrens
Jan 12—Feb 4
Fridays and Saturdays at 8 pm
Sundays at 2 pm. – On Sundays Kids 12 and under are FREE (1 free kid per adult)
Tickets $15 for adults, $10 for kids and students.
BACK BY POPULAR DEMAND!
Episode 1 of the hit series returns to Space 55!
A sassy teenager experiences awkward chicken-like symptoms after an accident in the Ronald Reagan Junior High science lab. This offbeat horror-comedy is presented in the style of a live radio play with onstage sound effects. Suitable for all ages.
Directed by Kim Porter. Starring Vickie Hall, Puneet Bajwa, Amy Carpenter, Kendall Pack, Andrew Hadder, and BJ Garrett. Sound effects by Carrie Behrens and Annika Cline.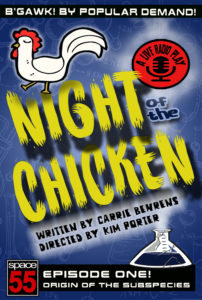 Revised and remounted! We are bringing episode one BACK in order to meet the clamorous demands of all our new fans. If you have never seen Night of the Chicken before, now is the perfect time to jump into the series and start from the beginning!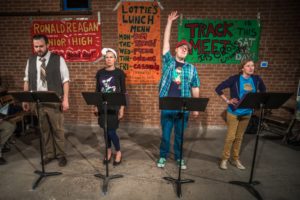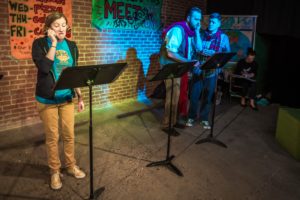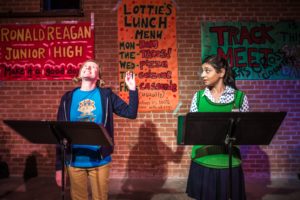 To learn more about Night of the Chicken check out nightofthechicken.com