Jan. 26, 27 & Feb. 2, 3, 9, and 10: 2 p.m. and 7 p.m. shows on all Saturdays; 2 p.m shows on all Sundays
A plastic water bottle named Sam has lost her parents in The Gyres. With help from a blue crab, a parrot, a sea turtle, and music and puppets made from recycled materials, Sam embarks on an epic, family-friendly journey to save us all from the lonely, swirling vortex of trash floating in the ocean.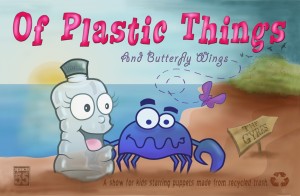 Written by Greg Romero
Directed by Michelle Kable
Cast Bios
Pina ( SAM & OLD SHOE)
A writer/Performer, whose work has been seen in Space 55's:  Bitch in Time, 7 Minutes, & Down Solo. She has also performed in 3 Fringe Festivals: Phoenix, Philadelphia and NY. She just completed a film Trailer for Gita Farid; Women in Love. She occasionally performs  at the Torch theatre with a group called Sister Wax. During the day/night Pina AKA Josephine works as a half time Expressive Arts Practitioner with Children and Adults. Pina/Josephine (Gemini) is also a Certified Hypnotherapist/Creativity Coach. Artistically, she is currently developing a Memoir for stage at Space 55 in Kim Porter's Solo Workshop.
Mack Duncan (Reginald, Sam's Dad)
Mack has been an active performing artist in Phoenix since 1999, and has been a professional educator since 2001. He has a degree in Directing from Arizona State University. At ASU he wrote and performed with The Farce Side and Barren Mind improv. He was a member of the Phoenix ComedySportz team from 99-2002, directing the troupe from 01-02. He has directed numerous short films, including Menagerie of Space, and the award winning Big Benevolent Wolf and ALONE. In 2008, he launched the web series "Vincent and Me" which as been screened at Phoenix Comic Con. Duncan is the President and co-founder of CareFree Write Productions, which produces The Phoenix Improv Festival. In 2007, he helped launch The Torch Theatre. He taught High School Theatre Arts from 2003 to 2011 and is currently performing with The Torch Theatre's Apollo 12 and The Foundation, as well as Mack Duncan: 1-Man Show and the puppet troupe Die Puppet Die.
 
 
Dilcia Yanez Rokusek (Billie, Sam's Mom)
Dilcia is pleased to be back on the Space 55 stage. Dilcia is an actress and dancer that can be seen performing in many venues throughout the valley. Previous credits include "To Kill a Mockingbird," "Seven Brides for Seven Brothers," "Lend Me a Tenor," and "Cinderella," all at Hale Centre Theatre; "My Secret Language of Wishes" with Black Theatre Troupe; "Heidi" with Phoenix Theatre's Cookie Company; and as a member of First Friday Night Live and Gary's Couch, two sketch comedy shows based in the downtown Phoenix area. She is also an experienced swing dancer/instructor and tap dancer. When she's not in rehearsal or performing, she can be found selling vintage treasures at MacAlpine's Soda Fountain and Store, or spending time with her 3 kids. Much love to her family and friends for their support!
 
Ron Foligno (Old Sea Turtle)
Ron is a local performer and musician. He is part of the band "Samson Says" and performs regularly in "Hollis's Traveling Treehouse and Dance Party" at Space 55.