Saturday, November 21st at 10:30pm. Tickets are $5 at the door.
The Torch Theatre revives its roots at Space 55 by bringing longform improvisation back to downtown Phoenix for one night a month. Every third Saturday these two theaters join together to bring you The Revival. The show will feature some of The Torch Theatre's hungriest groups who will create completely unscripted performances along with a few surprises in between.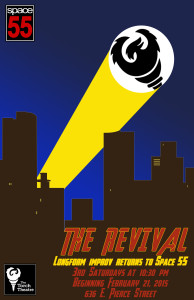 This month enjoy the classic mash-up of Jacque Arend & Liz Hutchman as Birds & Broads.
Our Guest Improv is Zombie Gourmet a physical treat equal to a triple decker ice cream cone. This group features performers – Scott Schoneman, Rachel Cepeda, Rico Pagliuca, Jackie Rick, Eric Storie & Alex Danvers.
Our little monthly visit also includes the comedy perfomerancer Amy Carpenter.
Our Revival man on the keys is Chad Michael Lawson!
The whole night is sure to revive your funny bone.