SPACE CON '16
EXTENDED THROUGH OCTOBER 9TH!
September 16 through October 9
Friday & Saturday Nights at 8 pm
Sundays at 5 pm
PLEASE NOTE: SPECIAL 7:30 EARLY START TIME ON OCTOBER 7TH DUE TO FIRST FRIDAY.
Ticket prices:
Friday $15
Saturday $18
Sunday $15
Harvey Milk once said "politics is theater". We couldn't agree more: That's why Space 55 is proud to kick off our new season with this one-of-a-kind theatrical experience- A staged political convention!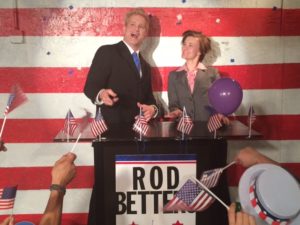 Audience members are delegates to the Space Party's political convention. Delegates are from states such as the State of South Confusion, State of Anxiety, State of Disrepair, or even State of Michigan.
States vote to see who will be the nominee for President!
This is an "open convention" meaning anyone can run! Including you!
Click here to read the review from the Downtown Devil!
Democracy at work at Space 55!