Who's Afraid of Virginia Woolf?
Written by Edward Albee
Directed by Carolyn McBurney
February 17 – March 12
Friday and Saturday Nights at 7 pm
Sundays at 2 pm
All seats, all shows $20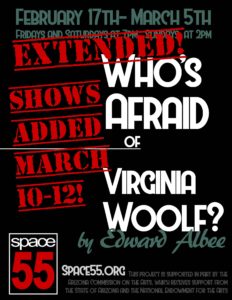 We are excited to announce this production one of Albee's greatest works. (Mr Albee passed away in late 2016)
"Who's Afraid of Virginia Woolf?" examines the breakdown of the marriage of a middle-aged couple, Martha and George. Late one evening, after a university faculty party, they receive an unwitting younger couple, Nick and Honey, as guests, and draw them into their bitter and frustrated relationship. The play is in three acts, normally taking a little less than three hours to perform, with two 10-minute intermissions.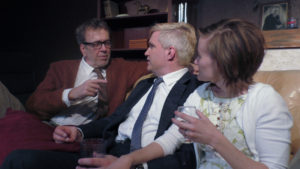 Cast includes:
Shari Watts
Duane Daniels
Megan Holcomb
Paul Kolecki
*This project is supported in part by the Arizona Commission on the Arts, which receives support from the State of Arizona and the National Endowment for the Arts.
Due to the overwhelming positive response to this production, we have extended this run by an additional week! Originally planned to close on March 5, we are now running through March 12.
CRITICS RAVE
"…stellar production… The superior, refined and emotionally rich performances…will be ingrained in your memory for a very long time… superb performances…
Director Carolyn McBurney does exceptional work…every moment resonates… intense and incredibly effective… (a) completely enthralling theatrical experience." Gil Benbrook – Talkin Broadway
"… Space 55 Ensemble does justice to (Edward) Albee's serrated wordplay…in an intimate production that gives the audience a fly-on-the-wall view of the emotional carnage. Shari Watts plays Martha with the over-the-top intensity that is absolutely essential to the role, while Duane Daniels deftly distills the complex cocktail of cynical erudition and smoldering nihilism in her husband, George, …Equally effective are supporting players Megan Holcomb and Paul Kolecki as a young couple caught in the verbal crossfire…Brutally funny and provocatively cerebral, "Virginia Woolf" relentlessly ratchets up the tension so you barely notice the 3½-hour running time ,,," – Kerry Lengel, Arizona Republic