A BITCH IN TIME 4
A Bitch In Time, showcasing female solo performers, returns to Space 55!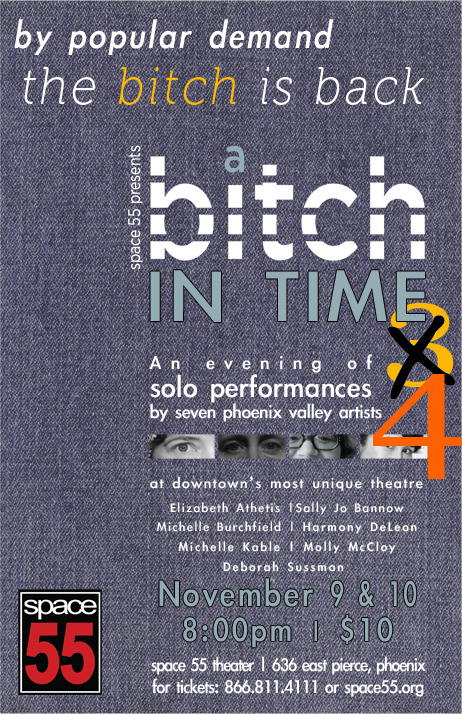 A Bitch In Time is back at Space 55 Theatre! Three prior versions of the all-woman show have been big hits. The latest edition of A Bitch In Time will treat audiences to an unforgettable evening of provocative, all-new solo pieces by an eclectic lineup of acclaimed actors, writers, musicians and performance artists, including the following:
Molly McCloy
Deborah Sussman
Sally Jo Bannow
Michelle Burchfield
Harmony DeLeon
Michelle Kable
Elizabeth Athetis
When: November 9th and 10th ─ Friday and Saturday at 8 p.m.
Where: Space 55 – 636 East Pierce Street, Phoenix, AZ 85004
Tickets: $10, available at space55.org – click on "Box Office," then click on the show date and time. Or call (866) 811-4111. Tickets will also be available at the door 30 minutes prior to show time.
About Space 55
Space 55 is the home to cutting-edge theatre in downtown Phoenix. Formed in 2006, Space 55 Theatre Ensemble is dedicated to the development and production of new and
innovative theatre and presenting it in a relaxed, casual environment at an affordable price. For more information, including a comprehensive list of ongoing events and shows, visit www.space55.org.