Fridays: $18
Saturdays: $20
Sundays: $15
Blue Galaxy
Book by Kim Porter
Songs by Roger P. Clark
Directed by Duane Daniels
WORLD PREMIER MUSICAL!
Opens Friday, April 29th.
Award-winning Phoenix Playwright Kim Porter returns to Space 55!
Blue Galaxy, a musical set against the back-drop of a retro-music club scene, tells the story of a beautiful but seriously-overweight chick who wants to be loved in spite of her weight not because of it; posing a problem for the earnest chubby-chaser who pursues her.
April 29 – May 22
Fridays and Saturdays at 8 pm
Sundays at 5 pm
Special performances
First Friday May 6 at 7:30 pm
PLEASE NOTE: This play contains sex and nudity. It is not appropriate for children.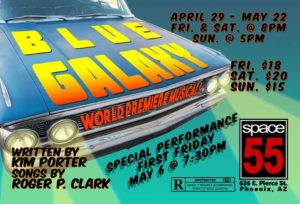 Featuring performances by:
-Libby Mueller
-Dilcia Yanez
-Marcella Grassa
-Jamie Sanderson
-Ron Foligno
-Amy Carpenter
-Rodney Dickerman
-Nina Miller
-Doug Waldo
-Paul Kay
-Lucas Gomez
-Steven Sorensen
-Ashley Naftule
-Belle Ransom