Fridays and Saturdays: $18
Sundays: $15
Ubu Roi by Alfred Jarry
Alfred Jarry's absurdist classic returns to the Space 55 stage for its 10th anniversary season! What to expect during Ubu Roi? It's the time-honored story of what happens when a big fat idiot is put in charge of a country, with lots of war, blood, guts, food fights, magic, shouting, puppets, chaos, hilarity, horror and the just plain bizarre sprinkled into the mix.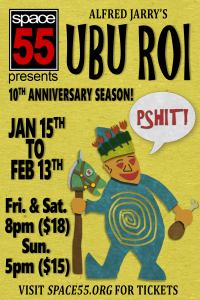 Ubu Roi cast includes Ashley Naftule as Papa Ubu, Lana Antropova as Mama Ubu with Ron Foligno (Sexual Perversity in Chicago) Shannon Phelps (Sexual Perversity in Chicago) Dennis Frederick, Renee Boehm, Megan Holcomb and Yonathan Surafel.  Directed by Duane Daniels.
Opens Friday, January 15th.
Jan. 15 – Feb. 13
Fridays and Saturdays at 8pm
Sundays at 5 pm
Special performances:
First Friday Feb. 5 at 7:30 pm