Saturday May 3rd at 10:30pm. Tickets are $5 at the door.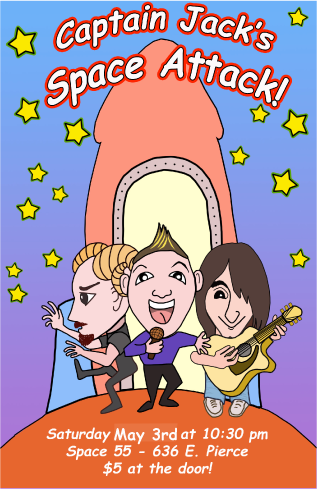 In this month's musical/comedic/galaxy-hopping adventure, Captain Jack and his crew have a lot on their interstellar plate to deal with: a documentary filmmaker appears on the ship, bringing out the worst in everyone as each crew member vies to be the star of the film! Will Jack, The Band, Queen Mozambique, Dr. Bendo, Viscount Earle, and "The Red Shirt" survive the fight before they land on planet Cannes for the screening of the film? Will Jack ever find anybody who's heard his song? And who is this strange new Jack? A clone?? Who are Wanda & Sykes? To find out the answers to all these questions (and more!), come to Space55 on Saturday, March 1st!
 Bring shot supplies! Meteorites provided.
Featuring performances by BJ Garrett, Larah Pawlowski, Dennis Frederick, Ashley Naftule, Carrie Behrens, Ron Foligno, , Charlie Steak, Reuben Brock, Jeremy Brunansky, Bob Peters, Kamilah Sheats and Colt Watkiss.