Friday, September 12 at 8:00pm.  Tickets $10.
When people think of Arizona, what do they think of? Cacti? Blazing heat? Party schools? But do they think about Arizona as a place of great thinkers? As a go-to destination for the cutting edge paradigm-shifters of tomorrow? Probably not. The world premiere of P.H.I.L. Talks is looking to change that.
An interactive presentation series (in the spirit of TEDx, but with an emphasis on presenting local thinkers with global solutions), P.H.I.L. Talks brings together some of Phoenix's brightest minds for an informative, insightful and entertaining evening of awareness-raising, thoughtful head-nodding and world-changing conceptualizations. The inaugural P.H.I.L. Talks presents talks by experts on public safety, human relationships, economics, semiotics, abnormal psychology, behavioral science and more! Moderated by Tim Eigo and featuring a special surprise guest (a legendary social media guru), P.H.I.L. Talk will make you see Arizona in a whole new light.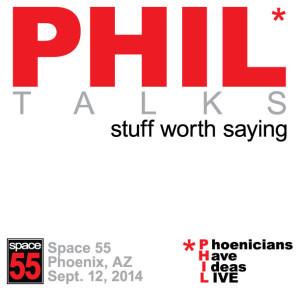 Click here, for an interview with PHIL Talks organizer, Ron Foligno, on KJZZ.