Saturday, April 8th at 10:30pm.  Tickets $5 at the door.
Phoenix Tonight, the Valley's live late night talk show, celebrates spring with an incredible 14th episode!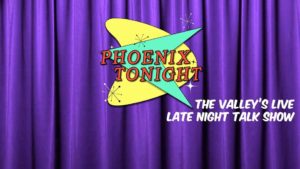 This month's guest list is a who's who of influential women in the Valley!
Rosemarie Jeana: Poet Laureate of Phoenix
Amanda Kositzky: Co-host of Channel 8's "Check, Please," lifestyle & beauty blogger
Rosie Magana: founder/director of Palabras Librería/Bookstore
Come for these amazing guests, stay for the hilarious comedy of our hapless host, Russ Kazmierczak.