Tickets $12
Sexual Perversity in Chicago
by David Mamet
Space 55 opens it's 10th Anniversary season with this retrospective on the sex and disco scene of the late 1970's. Two lovers try to get into the same groove in the disco era, but their friends want them to dance to a different beat.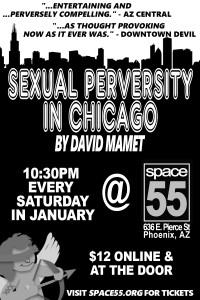 EXTENDED!
We are pleased to announce that Sexual Perversity in Chicago has been extended! Performances will be at 10:30pm every Saturday through the end of FEBRUARY!
Opens Saturday Nov 7th.
Fridays and Saturdays Nov. 7 – 14 at 8 pm
Fridays and Saturdays Nov. 20 – Dec 18 at 10 pm (Excluding Nov 21st and 28th)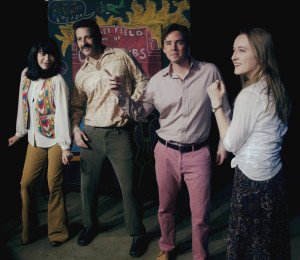 The cast includes Ron Foligno as Bernie, Marcella Grassa as Joan, Belle Ransom as Deborah and Megan Holcomb as Danny. The show is directed by Space 55 Artistic Director, Duane Daniels.
"It is such a culture shock really, to see how far we've progressed as a society in regards to dating and relationships, and also how, in many ways we have not." said Daniels.
When it debuted (1976), SEXUAL PERVERSITY IN CHICAGO won the Obie Award for "Best New American Play." Mr. Mamet went on to receive the Pulitzer Prize for Drama with GLENGARRY GLEN ROSS and the New York Drama Critics Award for AMERICAN BUFFALO, among many other awards. This play is one of his earliest works.