Friday, April 8th from 6:00 to 7:30pm.  Tickets $8
Much like turquoise, this comedy show rocks! Featuring stand up from:
Host: Michael Turner
Sofiya Alexandra
Jack Galvin
Michael Paul Kohn
Michael Longfellow
Isaac McKay
Anwar Newton
Stryker Spurlock
Abby Stassen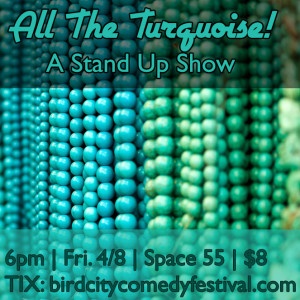 This event is part of the Bird City Comedy Festival. Space 55 passes will not be accepted. Click Here to purchase advanced tickets.