Friday, April 8th from 7:30pm to 9:00pm.  Tickets $8
Bird City Comedy Festival proudly presents some of the best improv around. Hosted by comedian Anthony Desamito, this dynamic show features performances from:
TREW PLUS TWO
Chris Trew (The New Movement) pulls two people up onstage with him and then magic happens. That's pretty much all anyone knows about this show. Magic will happen and you can watch it happen.
THE NEIGHBORHOOD: BIRD CITY EDITION
In this special Bird City edition, The Neighborhood takes a special guest monologist from Bird City's roster of performers and their real-life stories inspire improvised scenes and characters to create a comedic performance of epic proportions. MONOLOGIST: TBA
JUDD
Judd is an improvised-musical-theatre troupe based at The Torch Theatre in Phoenix, Arizona. Formed in 2010, the group has been performing monthly in one of the Friday night feature-show slots (8:30) for nearly two years. The group has also performed at other venues in the Valley, including National Comedy Theatre, Copper Blues, and Space 55.
Judd was an official selection in the Arizona Showcase at the Phoenix Improv Festival in 2012 and 2014, and has been selected as a mainstage performer at PIF #14 in April 2015!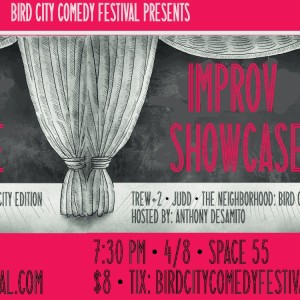 This event is part of the Bird City Comedy Festival. Space 55 passes will not be accepted. Click Here to purchase advanced tickets.