Saturday, April 9th from 3:00pm to 5:00pm.  Tickets $10
Stand up and improv are often seen as two diametrically opposed forms of comedy. Improv often involves working with other people, while stand up is largely a solo affair. Stand up is also is usually written beforehand, while improv is typically fly-by-the-seat-of-your-pants. But, the truth is, standups can greatly benefit from infusing a few principles of improv into their act. A venerable figure that has feet in both camps, Chris Trew (The New Movement, Hell Yes Fest) will tell you how infusing comedy with the principles of improv can only lead to great things. Please join us for this revolutionary workshop.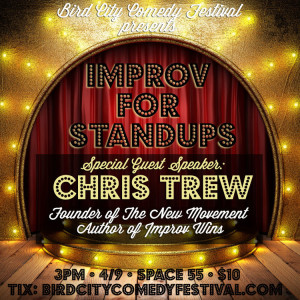 ABOUT CHRIS TREW
Chris Trew has headlined comedy festivals all over the U.S. and has been featured in Splitsider, the Adult Video Network Awards, America's Got Talent, and many other strange things. He was named one of "10 comics you should know" in 2015 by Paper Magazine.  He is the host of the Air Sex Championships, a touring comedy show featured in GQ Magazine as well as an award-winning documentary. Chris is part of the team behind The New Movement (comedy theaters in New Orleans and Austin) as well as Hell Yes Fest, the largest comedy festival in the Gulf South. He was also named "Manager of the Year" in the 2014 Wrestling Blog Awards.
This event is part of the Bird City Comedy Festival. Space 55 passes will not be accepted. Click Here to purchase advanced tickets.